Skip Navigation
Website Accessibility
** SHIPPING AND ORDER FULFILLMENT INFORMATION **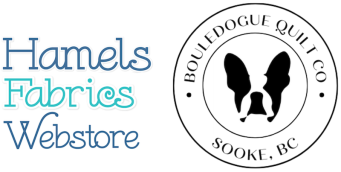 FREE SHIPPING ON ORDERS OVER $249*


*Exceptions listed in Info - Shipping Information




---
Store Policies
Online Shopping
At Hamels Fabrics, we value our customers and their privacy. We are committed to protecting your personal information and providing a secure online shopping experience, and we believe all internet transactions should be convenient, reliable and secure. We DO NOT store any credit card information. If you would be more comfortable placing your order offline, please call us at 1-778-365-1887.
Inventory

PLEASE NOTE: Not all 30,000 items (fabric excluded) are in stock at all times. For your convenience, we make a large variety of product available to you on our website, and this may cause shipping delays. Once an item has been ordered from our distributors for you, it cannot be cancelled. All orders ship complete.
Payment Options
We accept Mastercard, Visa, and PayPal.

Return Policy

Let's make returns real easy and straight forward...

Our products may be returned for a STORE CREDIT within 30 days of original purchase, provided they are unopened and in "like-new" condition.
Any shipping on returns will be paid by the buyer, unless the mistake is ours (we ship you the wrong item, we ship you too many of something, not enough, etc).
The returned goods must include a copy of the receipt, your e-mail address, shipping address, and phone number so we can get the item back in stock.

No restocking fee, just a wonderful store credit which can be spent at your convenience. We'll take care of you as best we can.
All custom made kits are non-refundable.

Due to copyright restrictions - books and patterns cannot be returned. Please make your selections carefully

Fabric is non-refundable.
Thanks so much for your understanding.

Privacy Policy
Hamels Fabrics is committed to protecting your privacy and any information you share with our company. Hamel's Fabrics gathers customer information in several ways - they are as follows:
When users sign up on our site, place an order and at the same time sign up for our newsletter, sign up to receive newsletters in store or at quilt shows. We keep all customer information confidential and do not share or sell any information with any outside parties.
Hamel's Fabrics uses our customers email information to send out regular newsletters alerting them to what is happening in store plus promotions and where they can find the latest quilt show.
Customers emails can also be used to correspond with the customer as an individual as to updates on their orders plus any questions we may have pertaining to their order.
We adopt appropriate data collection, storage and processing practices and security measures to protect your personal information
Sensitive and private information transferred between the site and users happen over a SSL secured communication channel and is encrypted and protected

Frequently Asked Questions
1. Can I call in my order? Yes. Please leave a message if we are not available and we will call you back as soon as possible.
2. Can I pick up my order? Yes, you most certainly can during business hours.

You will be sent an email notification when your order is ready.



3. Do you have a retail store front? Yes - please visit us at Bouledogue Quilt Co, located at 2044 Otter Point Rd in Sooke, BC

4. Do you have a newsletter? Yes, please sign up to receive it on the home page

5. Is Hamels Fabrics on Facebook? Yes, just follow this link

6. Do you participate in quilt shows? Yes, you will find a listing of our Quilt Shows which we attend on our website under "Events"

7. Do you teach any classes? Yes, find a list of our current classes here