Skip Navigation
Website Accessibility
** SHIPPING AND ORDER FULFILLMENT INFORMATION **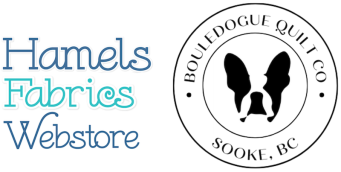 FREE SHIPPING ON ORDERS OVER $249*


*Exceptions listed in Info - Shipping Information




---
ALLURE - Lanterns Quilt Kit
Surround a 24" panel with borders, one with pieced blocks. You can make more or fewer blocks, arrange them as shown, or however you'd like. By rotating the pieced blocks one-quarter turn, you get a very different look. You could even use both rotations together, your choice!
You can separate the blocks with squares, or simply cut rectangles to the proper size, measurements are given.
If you'd like a smaller quilt, stop at the third border.
I recommend Deb Tucker's Studio 180 Corner Beam® ruler to make the Lantern blocks, but templates are included. If you are using the templates, ¼m each of Fabrics 3 and 4 is sufficient.
Approximate size: 46" x 66"
Skill level: intermediate