Skip Navigation
Website Accessibility
** SHIPPING AND ORDER FULFILLMENT INFORMATION **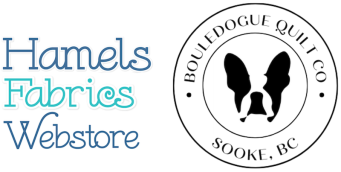 FREE SHIPPING ON ORDERS OVER $249*


*Exceptions listed in Info - Shipping Information




---
Shipping Information
We strive to have all orders shipped within 3-5 business days (Monday to Friday).

We are not responsible for lost/stolen parcels, weather related damage or delays!

Please ensure your contact information and delivery address is correct prior to submitting order. You are responsible for any costs incurred to redirect/reship your order.
FREE Shipping

over $249.
$19.99 for orders under $249

$9.99 lettermail - eg. pattern, 1m fabric (under 500g and 2cm thick).

(

$9 will be refunded from the $19.99 minimum charge)

PLEASE NOTE: Thread cannot be shipped lettermail as it exceeds maximum dimensions set by Canada Post.
Small orders (500g and under) usually ship via Canada Post letter mail (NO TRACKING)
Larger orders ship via Canada Post or CanPar (with tracking number)


XPRESSPOST shipping is available for an extra fee. Call us to make arrangements.
USA
Order Subtotal

| | |
| --- | --- |
| $0 - $45 | $35.00 CAD |
| $25.01 - $50.00 | $45.00 CAD |
| $50.01 - $100.00 | $55.00 CAD |
| $100.01 - $200.00 | $65.00 CAD |
| $200.01 - and up | $80.00 CAD |
---
International
Order Subtotal

| | |
| --- | --- |
| $0 - $25 | $50.00 CAD |
| $25.01 - $50.00 | $60.00 CAD |
| $50.01 - $100.00 | 75.00 CAD |
| $100.01 - $200.00 | $85.00 CAD |
| $200.01 - and up | $110.00 CAD |
Q: To get FREE SHIPPING (Canada only), does my order need to be over CAD $249, before tax or after tax?
A: Before tax..

Q: Can I purchase extra insurance? Can I upgrade to a faster shipping method?
A: Yes, you most certainly can... Just email us at info@hamelsfabrics.com and we will make the arrangements.

Q: I didn't receive my package. It didn't have a tracking number. Now what?
A: We will investigate right away! We understand it's terrible when mail is lost or stolen, but we are not responsible for lost, stolen or damaged packages. If you have regular issues with poor mail delivery (i.e. the carrier delivers your mail to your neighbors every now and then) or issues with stolen mail (community mailboxes, apartments/condos) we would recommend our Expedited shipping options. Not only is it faster, it's also tracked and insured.


Q: Is Expedited shipping insured?
A: Yes. The default insurance is $100 CAD, but you can contact us to insure your order for more than $100 for an extra charge.


*Exception* We cover the first $40.00 for shipping. Any excess will be invoiced to you prior to shipping order.
GST (5%) and PST (7%)
British Columbia & Manitoba
GST (5%)

Quebec
GST (5%) and PST (6%)
Saskatchewan
GST (5%)
Alberta
Northwest Territories
Nunavut
Yukon
HST (13%)
Ontario
HST (15%)
Newfoundland
&
Labrador
New Brunswick
Nova Scotia
Prince Edward Island


Shipments outside Canada are not taxed.
Returns

Our products may be returned for a STORE CREDIT within 30 days of original purchase provided they are unopened and in "like-new" condition. Any shipping on returns is your responsibility - unless the mistake is ours. All returns must include a copy of the orignal receipt. Please ensure your e-mail address and phone number is correct so we may reach out to your directly to confirm any details.
Thanks so much for understanding.


Customs, Duties & Taxes
We are not responsible for any customs, duties and taxes.